Well, by now you should be well into Wings of the Wicked. In fact, if you haven't gone past these chapters, then there's something wrong with you, because there's no way you can't not power through this book. Get ready have your heart ripped out in the coming chapters guys.
If you read
Momo's post from Monday
, you know that CAM just got her author copies of Shadows in the Silence in the mail!!!!! AAAHHHHH!!! It's so close I can taste it!!! Also, the ebook A Dance With Darkness (a sort of prequel to Angelfire, but with Madeleine and Bastian as the stars) came out on January 2nd! Just click on picture below to find out more about it:
Don't forget, you're supposed to have finished chapters 9-17 by now!
Here are our answers were to that discussion question on Monday I'll start with Momo's answer:
If you had to destroy yourself in order to save the people you love and everyone else on earth, would you do it?
Momo
:
Oh man, this week's question is heavy... but after some thought, I've come to conclude that I would go to any lengths to make sure that the people I loved and cared deeply for along with everyone living and breathing on planet Earth were safe. At first, I was thinking, "No way!" But the more I thought about it, if I didn't destroy myself or do everything that I could to protect those that I cared about as well as those that were innocent bystanders, then we would all lose. If I was the only one that could prevent everyone's doom or if the fate of all of their lives were in my hands, then no doubt, I would fight to the death, lol.
Nicole: Let me start off by saying, yes, I would. But. Yes, there's a but. It would take me some time to come to terms with the idea that I was going to die. I know that it would be for the people I loved, but the fact is that there's huge difference between imagining that you're going to die, and then have it actually happen. Ellie's death, especially, would be horrible and terrifying. I think I could accept my death easier if I knew it was going to be quick. Not only would I not want to suffer, but I know that the people I loved would want to know that I didn't suffer. I know this is a super morbid question, but honestly this book is about to get really morbid, in as close as the next chunk of chapters we're going to read.


~~~~~~~~~~~~~~~~~~~~~~~~~~~~~~~~~~~~~~~~~~~~~~~~~~~~~~~~~~~~~~~~~~~~~~~~~~~~
Fun personal fact: I visited Michigan over winter break and passed by Michigan State [SPOILER: the school that Ellie gets into]. Sadly, I haven't gotten to visit the campus, but it's in a very nice area and I've watched them play different sports on TV. Another thing that happened was that I was going to go through Pontiac (where Ellie and Will used to train before their building got destroyed) to get to a friend's house, and my parents reminded me that that's not a good place to get lost. So just keep that in mind when Pontiac is mentioned: it's the kind of place no human wants to be stranded in.
Alright, we have some awesome questions for you this week to answer for the grand prize giveaway of the signed set of all three books! And
if you answer all the questions correctly, either Momo or I will send you swag!
Sound good? You can find the questions in the Rafflecoptor (I don't want to spoil it for anyone that hasn't read this far yet by putting the questions in the actual post).
PLEASE DO NOT ANSWER THESE QUESTIONS IN THE COMMENTS!
There will be a spot for each answer in the Rafflecoptor, so the more you answer, then more chance you have of winning, and the more you get right, the better chance you have of getting some swag!
Come back to my blog on Monday
, where Momo and I will have another juicy discussion question up for you! Also,
don't be afraid to ask either Momo or I questions about this read-along or the series
! You can comment on any of the posts (although, if it's spoilery, I would advise against it) or you can chat us up on Twitter. Momo's handle is @BooksOverBoys and mine is @nicole_mainardi, and you should definitely use the hash tags #ReaditandReap (clever, right?) and #AFreadalong. You're not on Twitter you say? That's okay, I wasn't either before summer this year. You can always make a blog post about your thoughts or even write on one of our Facebook pages! We'd love to hear what you think!
Here's the button to put on your blog for extra points!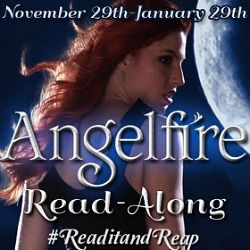 And now, for the giveaway!
NOTE: If you didn't get the chance to answer the questions from last week, that's okay. They're still in the Rafflecoptor, but now you have to answer the trivia from this week in order to get to them.
a Rafflecopter giveaway