Hi all! So we're getting serious here. I was crying already even before these chapters started, so be prepared for ever more heartache. I know, I didn't think it was possible either. This week and next week hold the pivotal chapters for this book, and even re-reading them hurt my soul. I can't imagine what CAM is going to do to us in Shadows in the Silence. This is how I felt reading from here to the end of the book:
I was honestly a complete and total mess like this. I know this gif is meant to be funny, but that's honestly how I imagined myself as I watched Ellie's world fall apart. Just thought I needed some comedic relief in this post... anyway, onto business.
The chapters you need to read for this week are #18-25.
I don't want to give anything away so I won't say why my heart was bleeding during these chapters. Here's the discussion question for this week. It's another super-serious one because these chapters are so morbid and heart-wrenching.
Have you ever lost someone close to you?

NOTE: I know this is a question that will hit close to the heart for a lot of people. A simple yes or no in the comments will suffice in this case, but if you'd like to say more, please feel free.


Momo and I will let you know what our answers are to this question on the post on Friday, which should be one Momo's blog. There will also be a trivia quiz to make sure you read the chapters and answering those will enter you into the giveaway that spans the entire read-along, which is a signed set of all the books!
What we want YOU to do is to answer that question down below in the comments (not in the Rafflecoptor), and then you can be entered to win a copy of Shadows in the Silence, the final book in this epic trilogy! We don't need some complicated essay-like answer, but we want to be able to tell that you thought about it at least a little.
Here's the button to put on your blog for extra points!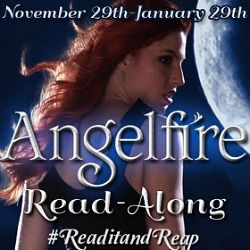 a Rafflecopter giveaway