There's actually a good amount of stuff that went on this last month. I'm settling into school (AKA, the quarter's almost over and I'm procrastinating like there's no tomorrow!). I'm obviously not reading as much but I think I've gotten my fair share done considering. I've also opened up two events with linky lists. One is for the
Angelfire Read-Along
, hosted by me and Momo from Books Over Boys, which I'm begging you guys to sign up for! You have until December 29th to so! Just click the button below to sign up!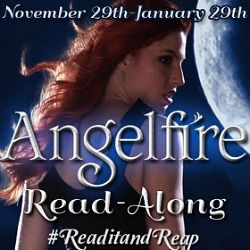 I've also decided to start my own reading challenge, which I've called the
End of the Series Reading Challenge
. Click the button below to check out all the rules.
Needless to say, I've been pretty busy with blog stuff this month. You'd be surprised how much effort it takes to run a read-along, even with someone else helping. But I'm really excited for both of these! The first discussion post for the Angefire Read-Along will be on this Monday, so hurry and sign up!
I'm also getting ready for the holiday season. It's my boyfriends birthday today, so I've been worried about getting him a gift for that. And then Christmas is right around the corner, then my birthday in January and our anniversary in February! It's been a busy winter like this for almost five years now! But it's worth it.
The first thing I'm going to mention is that I featured the Harry Potter franchise for an entire week on the blog! It was a lot of fun, but I wish more people had commented :/ If you want to check out the posts, click on the pic below.
Now, to the reviews!
The Evolution of Mara Dyer (Mara Dyer #2) by Michelle Hodkin
Winter's Kiss by Jennifer Echols and Catherine Hapka
The Goddess Inheritance (Goddess Test #3) by Aimee Carter
Breaking Point (Article 5 #2) by Kristen Simmons
Through the Ever Night (Under the Never Sky #2) by Veronica Rossi
Yeah, I totally failed at the reviews this month, but I read a lot more so hopefully there will be more reviews in December!
PUBLICATION DATE: October 23rd, 2012
PUBLICATION DATE: February 26th, 2013
PUBLICATION DATE: October 30th, 2012