If this is your first time joining us, check out all the information about this read-along HERE, and then don't forget to sign up!
This is the end of the second week of the Angelfire read-along and I'm still so excited to be doing this! You might be wondering what our answers were to that discussion question on Monday. All your guys' answers were great! I'll start with Momo's answer:
Ellie doesn't believe in "absolute evil or absolute good." Do you agree with her? Why do you think no one is simply one or the other?
Momo
:
I totally agree with Ellie that no one is a hundred percent evil or good. I mean, it'd be weird to be born with nothing but evil intentions, like you never had a chance from the beginning... what would be the point in being born? Kinda like. I think no one is simply one or the other because we're all different individuals and we have different mindsets and ways of thinking that it causes our actions and reactions to vary widely. I think it simply just comes down to the choices we make. We choose how we want to react to certain things and we're human, we have crazy-off-the-charts emotions that sometimes we act before we think. We're human, lashing out or being sensitive is just how we came. Plus, wouldn't it just be kinda boring it half of the human race was complete good and complete evil? How about a little unpredictability and individuality?
Nicole: Of course! There's always some gray area; nothing is as black and white as people want them to be. Will has his heart set on demonic reapers only ever being demonic and vice versa with angelic reapers. But we find out in book 2 that those lines can get seriously blurred. I think that's why Will needs Ellie, to show him that you can find the good in people (or reapers) no matter how bad they are. Hatred is a form of passion, just like love is. Some of the reapers (and apparently Ellie's dad as well) are just unfeeling, so maybe they are a lost cause, but deep down, there's good in everyone and everything. It's only human to have some of both evil and good (and that includes reapers).
Can I just say, it was so weird watching Will interact with Ellie in this first half of Angelfire. He's slowly becoming himself again, but re-reading it now, there was no trace of what he might feel for Ellie besides being her Guardian. The discussion question that I had thought up for this week was asking if you've ever had to mask your emotions in order to hide your true feelings from someone (Momo's question was much better, as you can tell!). Luckily, none of our lives are like Will or Ellie's (at least, I hope not), so I've never had to hide my feelings from a 600-year-old hot reaper or a reincarnated reaper-killer. And let's all be thankful for that!
Okay,
by now you all should have finished reading chapters 9-17
. Things are starting to get a bit intense on all fronts! That being said, we have some great questions for you this week to answer for the grand prize giveaway of the signed set of all three books! And
if you answer all the questions correctly, either Momo or I will send you swag!
Sound good? You can find the questions in the Rafflecoptor (I don't want to spoil it for anyone that hasn't read this far yet by putting the questions in the actual post).
PLEASE DO NOT ANSWER THESE QUESTIONS IN THE COMMENTS!
There will be a spot for each answer in the Rafflecoptor, so the more you answer, then more chance you have of winning, and the more you get right, the better chance you have of getting some swag!
Come back to my blog on Monday
, where Momo and I will have another juicy discussion question up for you! You guys have had awesome answers so far. Also,
don't be afraid to ask either Momo or I questions about this read-along or the series
! You can comment on any of the posts (although, if it's spoilery, I would advise against it) or you can chat us up on Twitter. Momo's handle is @BooksOverBoys and mine is @nicole_mainardi, and you should definitely use the hash tags #ReaditandReap (clever, right?) and #AFreadalong. You're not on Twitter you say? That's okay, I wasn't either before summer this year. You can always make a blog post about your thoughts or even write on one of our Facebook pages! We'd love to hear what you think!
Here's that lovely linky list again, so don't forget to sign up! There's still time; the list closes on December 29th.
Here's the button to put on your blog for extra points!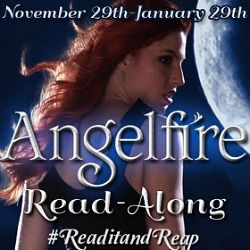 And now, for the giveaway!
NOTE: If you didn't get the chance to answer the questions from last week, that's okay. They're still in the Rafflecoptor, but now you have to answer the trivia from week 2 in order to get to them.
a Rafflecopter giveaway