How have you all been doing with the read-along? At first, I planned on pacing myself, but honestly I just couldn't! These books are so good, and I'm already done with Wings of the Wicked. But, we shall keep pace and continue with the middle of Angelfire. As a reminder, you can still sign up for this read-along until December 29th! Now, to business:
The chapters you need to read for this week are #18-26.
There's a Halloween scene in this chapter that made me laugh. I was always one of those girls that dressed in an age-appropriate costume (AKA not a slutty costume), and I always made fun of the girls that did dress that way because they obviously just wanted attention. But somehow, it works here with Ellie, because she's trying to get Will to pay attention to her as an actual human girl and not the Preliator. Also, when we meet Cadan in these chapters, I always imagine his mask as a Phantom of the Opera one, and so I've always seen him as a tortured soul, unable to ever get the girl he wants. You'll see much more of him in Wings of the Wicked.
Alright, here's the discussion question for this week:
Do you believe in reincarnation of the soul?
Momo and I will let you know what our answers are to this question on the post on Friday. There will also be a trivia quiz to make sure you read the chapters and answering those will enter you into the giveaway that spans the entire read-along, which is a signed set of all the books! You will find that post on Momo's blog this week, which is
Books Over Boys
.
What we want YOU to do is to answer that question down below in the comments (not in the Rafflecoptor), and then you can be entered to win a pre-order of Shadows in the Silence, the final book in this epic trilogy! We don't need some complicated essay-like answer, but we want to be able to tell that you thought about it at least a little.
Here's that linky list again! In order to enter the giveaways, you must sign up! It's simple and super fast, and if you don't sign up and you're picked as a winner, then we'll have to disqualify you.
Here's the button to put on your blog for extra points!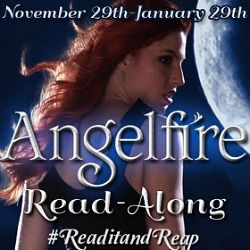 a Rafflecopter giveaway