Alright everyone, this is the first week of the Angelfire read-along! EEEEEEEP! Are you as excited as we are? I hope so! I've never actually re-read this series and I know Momo hasn't either so we're both excited to crawl back up into this world. As a reminder, you can still sign up for this read-along until December 29th! Now, to business:
The chapters you need to read for this week are #1-8.
These will go by super fast, and don't feel like you need to stop. I know I couldn't when I was first reading this book.
The one thing about these first chapters that already had me connecting with the story is that I used to live in Michigan and I go back there every winter break and two weeks during the summer. I know exactly where all these places are and what they look like, so I fell into this story very quickly. I even read it while I was in Michigan after meeting Courtney! Just so you know, West Bloomfield is a really nice part of town, and Pontiac most definitely is not. But you'll kind of figure it out while reading these chapters.
Alright, here's the discussion question for this week:
How would you react if you got flashes of a life that wasn't your current one, but you knew you'd lived it?
Momo and I will let you know what our answers are to this question on the post on Friday. There will also be a trivia quiz to make sure you read the chapters and answering those will enter you into the giveaway that spans the entire read-along, which is a signed set of all the books! You will find that post on Momo's blog this week, which is
Books Over Boys
.
What we want YOU to do is to answer that question down below in the comments (not in the Rafflecoptor), and then you can be entered to win a pre-order of Shadows in the Silence, the final book in this epic trilogy! We don't need some complicated essay-like answer, but we want to be able to tell that you thought about it at least a little.
Here's that linky list again! In order to enter the giveaways, you must sign up! It's simple and super fast, and if you don't sign up and you're picked as a winner, then we'll have to disqualify you.
Here's the button to put on your blog for extra points!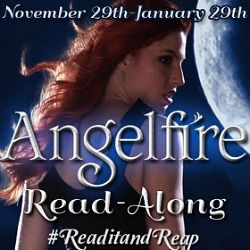 a Rafflecopter giveaway