If this is your first time joining us, check out all the information about this read-along HERE, and then don't forget to sign up! You still have one more day!!!
This is the end of the final week of the Angelfire read-along! As of now, you should be done with Angelfire! Did you totally love it? Want to marry Will? Well he's mine! I mean... he's Ellie's...*cough*
You might be wondering what our answers were to that discussion question on Wednesday (just a bit late, so if you still want to answer that question, go
HERE
). I'll start with Momo's answer:
Have you ever fallen in love with someone that you could never have? If you haven't, what would you do if you did?
Momo
:
That hasn't happened to me but if it did, I think I would just will myself to get over that person if there was no way of ever
being with them. But then again, that hasn't happened to me so I've no idea what I would really do, lol!
Nicole: Hmm well I've "loved" someone (meaning high school puppy love) after we broke up, and even after he was with someone else. But the reason I chose this question is because I've known friends that have been so infatuated with guys that were either out of their league or so under their league (if that's a thing lol) that there was no way there were ever going to end up together. Ellie and Will have a completely different situation. They belong to each other in so many ways, but there are so many things keeping them apart. Nowadays, if a relationship is too hard to work through, people will just give up and move on. But with Will and Ellie, there is no moving on. They're meant to be. There are just some couples that you know are meant to be together; Will and Ellie are that couple for me in the YA genre.


~~~~~~~~~~~~~~~~~~~~~~~~~~~~~~~~~~~~~~~~~~~~~~~~~~~~~~~~~~~~~~~~~~~~~~~~~~~~
Okay,
by now you all should have finished reading Angelfire (AKA chapters 27-35)!!
Things have gotten way crazier than we could have ever imagined and super complicated! That being said, we have some great questions for you this week to answer for the grand prize giveaway of the signed set of all three books! And
if you answer all the questions correctly, either Momo or I will send you swag!
Sound good? You can find the questions in the Rafflecoptor (I don't want to spoil it for anyone that hasn't read this far yet by putting the questions in the actual post).
PLEASE DO NOT ANSWER THESE QUESTIONS IN THE COMMENTS!
There will be a spot for each answer in the Rafflecoptor, so the more you answer, then more chance you have of winning, and the more you get right, the better chance you have of getting some swag!
Come back to my blog on Monday
, where Momo and I will have another juicy discussion question up for you! You guys have had awesome answers so far. Also,
don't be afraid to ask either Momo or I questions about this read-along or the series
! You can comment on any of the posts (although, if it's spoilery, I would advise against it) or you can chat us up on Twitter. Momo's handle is @BooksOverBoys and mine is @nicole_mainardi, and you should definitely use the hash tags #ReaditandReap (clever, right?) and #AFreadalong. You're not on Twitter you say? That's okay, I wasn't either before summer this year. You can always make a blog post about your thoughts or even write on one of our Facebook pages! We'd love to hear what you think!
Here's that lovely linky list again, so don't forget to sign up! There's still time;
the list closes on December 29th, which is TOMORROW
.
Here's the button to put on your blog for extra points!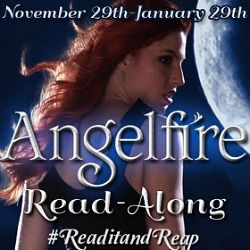 And now, for the giveaway!
NOTE: If you didn't get the chance to answer the questions from last week, that's okay. They're still in the Rafflecoptor, but now you have to answer the trivia from week 2 in order to get to them.
a Rafflecopter giveaway