Hi everyone! If you've stuck with us this long, we'd like to thank you! We'll be picking the winner of the pre-order of Shadows in the Silence and the swag winners soon! Just a lot going on. Did you all finish Angelfire on time? Did you have a love-hate cry fest over the end of this book? I know I did!
If you're just joining us, I'm sorry, but the linky list is closed. Thanks to everyone who signed up. Even if you didn't find the read-along in time to sign up, I highly recommend this series!
Now, to business:
The chapters you need to read for this week are #1-8 from Wings of the Wicked.
Things are cooling down with Will and Ellie (despite the insane sexual tension!), but more reapers and other bad guys than ever are after Ellie, and Will knows he must protect her at all costs. Remember that I said in the last discussion post that Ellie is more than just the Preliator? Well, here's a little nugget of extra info from CAM herself!
WARNING: If you haven't read the ending of Angelfire, this will be very spoilery for you an I suggest reading it after you've finished.
~~~~~~~~~~~~~~~~~~~~~~~~~~~~~~~~~~~~~~~~~~~~~~~~~~~~~~~~~~~~~~~~~~~~~~~~~~~~~~~
Originally Ellie's name was Claire, because it was a name I really liked. I began to notice that there were a LOT of Claires out there, and Ellie had a new name by the time I wrote the second chapter. Oddly enough, Ellie got her name before I knew she was the archangel Gabriel (I knew she was an angel, I just didn't know which one at this early point) and Ellie sounds like it could be a nickname for Gabriel, even though her full name is Elisabeth. Readers may have noticed that none of Ellie's flashbacks of her human lives (or any of Will's point-of-view short stories) mention the names of any of her previous incarnations. This was intentional to prevent name confusion and to focus on Ellie's present life because THAT is the story.
~~~~~~~~~~~~~~~~~~~~~~~~~~~~~~~~~~~~~~~~~~~~~~~~~~~~~~~~~~~~~~~~~~~~~~~~~~~~~~~
Interesting, right? You learn something new every day!
Alright, here's the discussion question for this week. I decided on a fun-ish one because the ending of Angelfire was so daunting. Sadly, the fact of this question is nothing to laugh at for Ellie.
How would you feel if every demonic reaper under Bastian's command was trying to capture you?
Momo and I will let you know what our answers are to this question on the post on Friday, which should be one Momo's blog if things go according to plan. There will also be a trivia quiz to make sure you read the chapters and answering those will enter you into the giveaway that spans the entire read-along, which is a signed set of all the books!
What we want YOU to do is to answer that question down below in the comments (not in the Rafflecoptor), and then you can be entered to win a copy of Shadows in the Silence, the final book in this epic trilogy! We don't need some complicated essay-like answer, but we want to be able to tell that you thought about it at least a little.
Here's the button to put on your blog for extra points!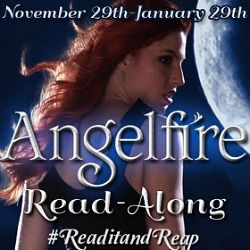 a Rafflecopter giveaway